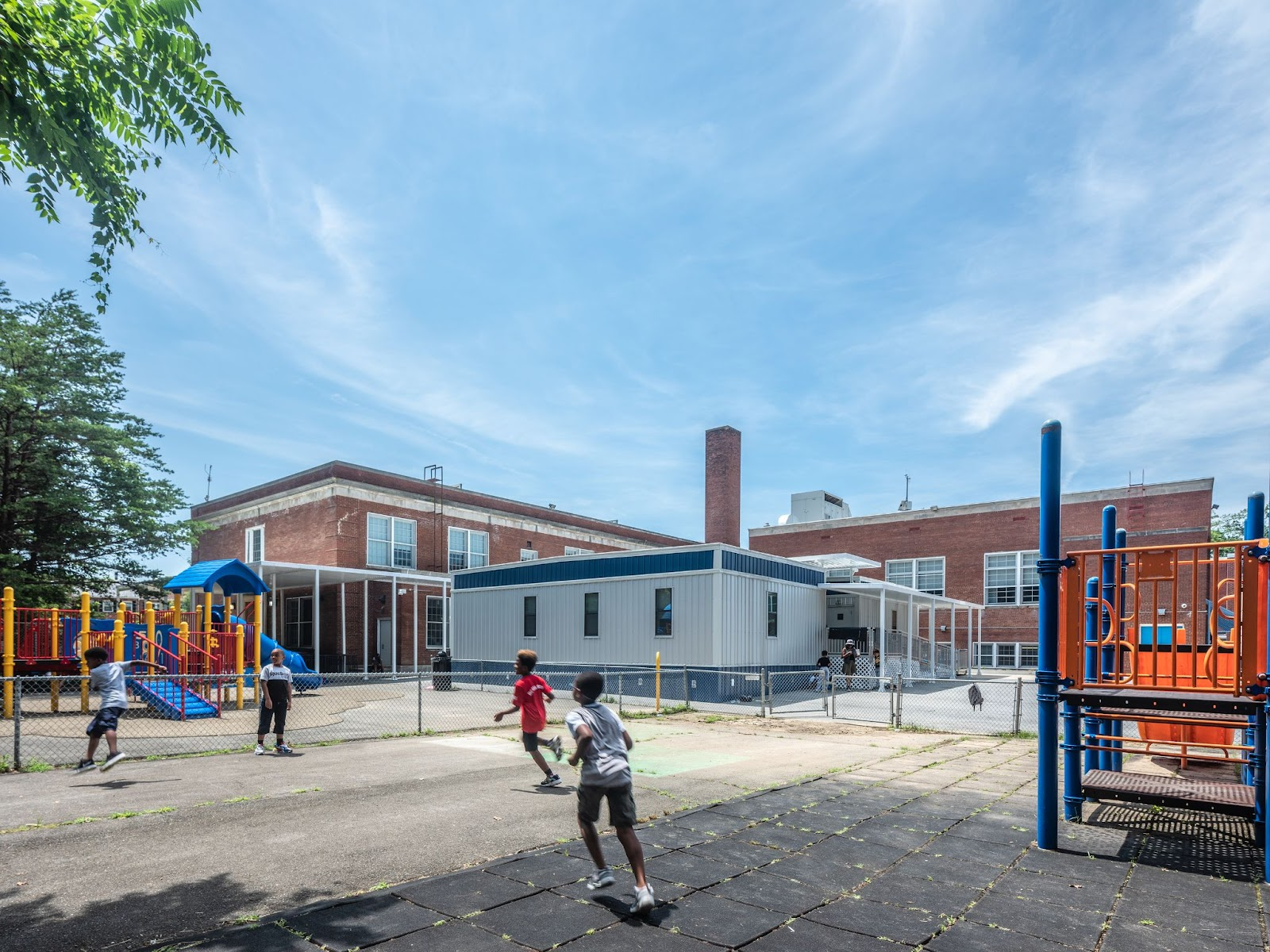 As communities grow, the demand for quality education also increases. But with limited budgets and space, schools are often caught in a bind. How can they provide the necessary facilities for their growing student population without breaking the bank? That's where modular buildings come in. Unlike traditional construction, modular buildings offer a cost-effective and efficient solution to the problem of school expansion. In this blog, we'll take a closer look at why modular buildings are becoming a popular choice for schools looking to accommodate more students while also providing the best possible learning environment at the same time. So let's dive in!
Advantages of Modular Buildings for School Expansion
#1: Affordability Compared to Traditional Construction Methods
Modular buildings for school expansion are a cost-effective solution compared to traditional construction methods. The materials used in modular construction are manufactured in a factory setting, where labor and material costs are lower. Modular buildings are constructed using a series of prefabricated modules that are manufactured in a factory and then transported to the construction site for assembly. This factory production process allows for greater efficiency, as the modules can be produced in a controlled environment, where materials and labor costs are carefully managed, resulting in a cost-effective solution.
In addition to the cost savings from factory production, modular construction also reduces the amount of time and labor required on the construction site, resulting in lower construction costs. Traditional construction methods require a significant amount of on-site labor, which can be costly and time-consuming, while modular construction involves minimal on-site work, as the prefabricated modules are assembled on-site.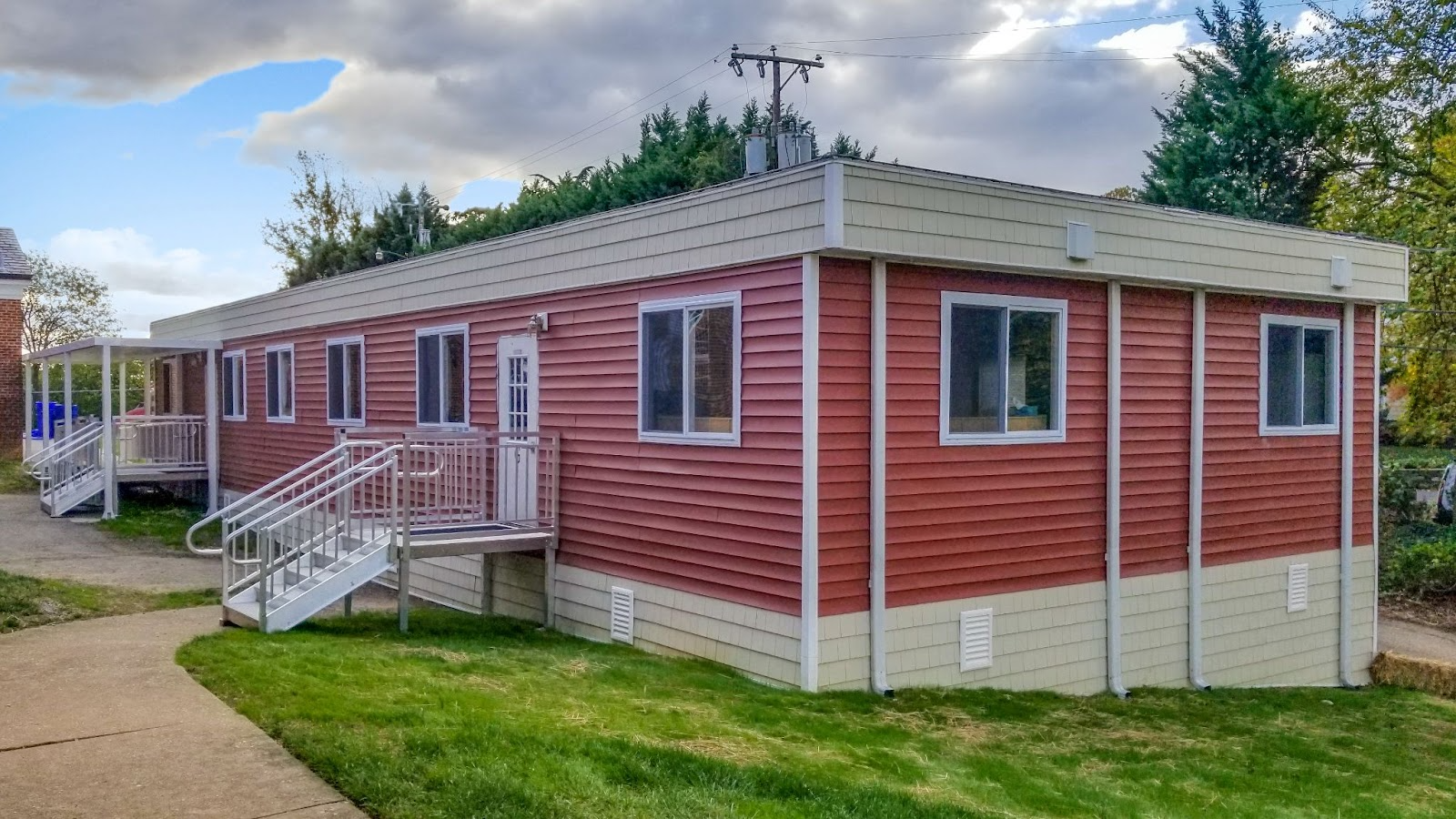 #2: Minimized Disruption to School Activities with Construction
Modular buildings are significantly faster to construct than traditional buildings, which is a huge advantage for schools that need to expand their facilities quickly. Modules are built in a factory while the site is being prepared, which allows for a shorter construction time once the modules arrive on-site.
While site preparation work such as excavation, grading, and foundation work is taking place, the modules for the modular building are being manufactured in a factory, reducing the overall construction time. Once the modules are completed, they are transported to the construction site and assembled on-site. This assembly process is much faster than traditional construction methods, as the modules are pre-fabricated and designed to fit together quickly and easily on location. With modular construction, schools can have the additional classrooms or facilities they need in a shorter amount of time, reducing the disruption to the school's activities.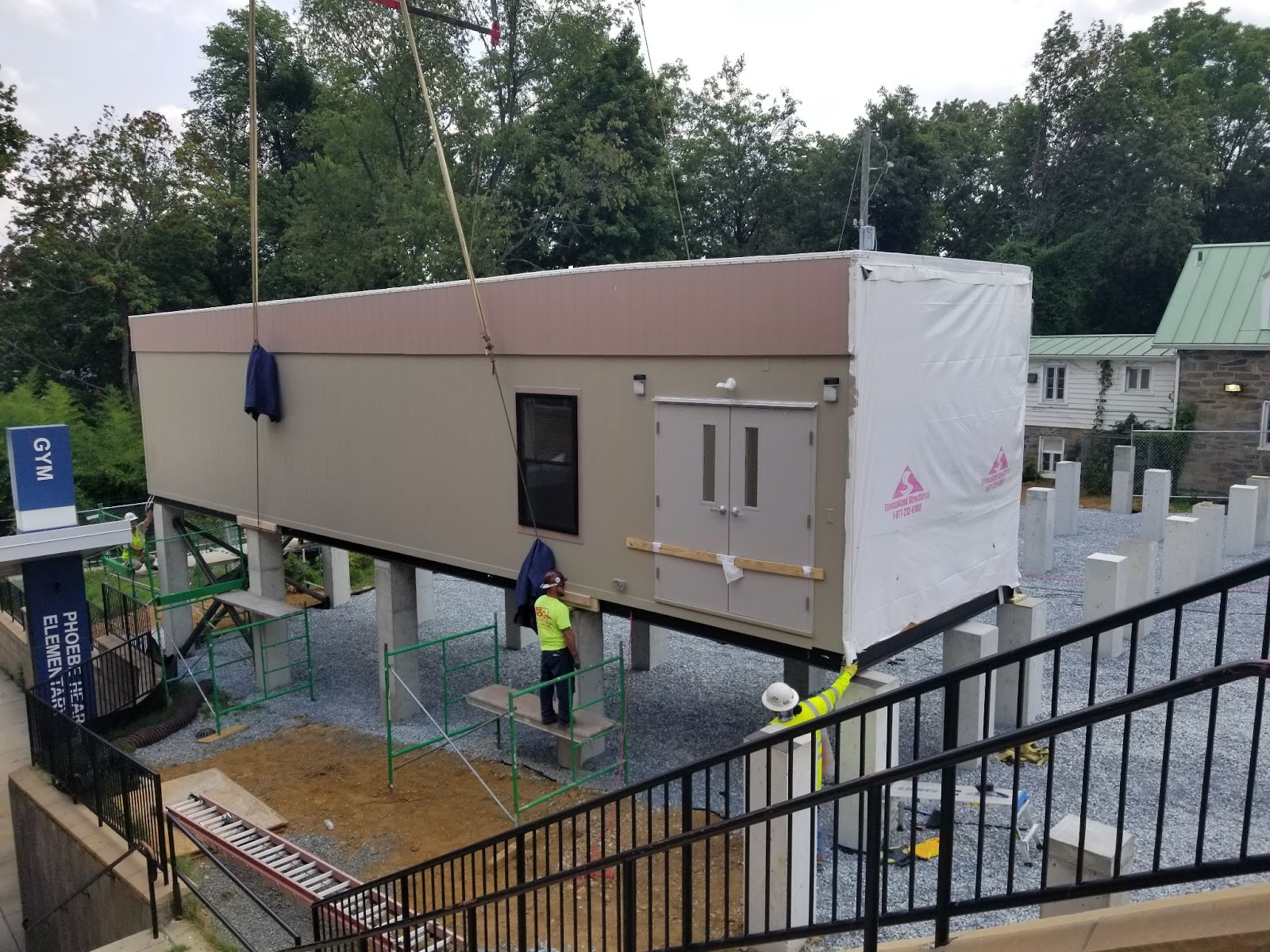 #3: Offers Customizability and Flexibility to Meet Specific School Needs
Modular buildings offer a high degree of customizability. They can be tailored to meet the specific needs of the school, including classroom size and layout, types of facilities included, and even specific design features like color and style. This means that schools can create spaces that are unique and customized to their specific requirements, which is not always possible with traditional construction methods.
Modular buildings are also designed to be easily adapted and reconfigured, making them a flexible option for future growth. If a school's needs change over time, the modular building can be modified or expanded to meet the new requirements. This level of flexibility is not possible with traditional construction methods, which are typically more rigid in their design and construction.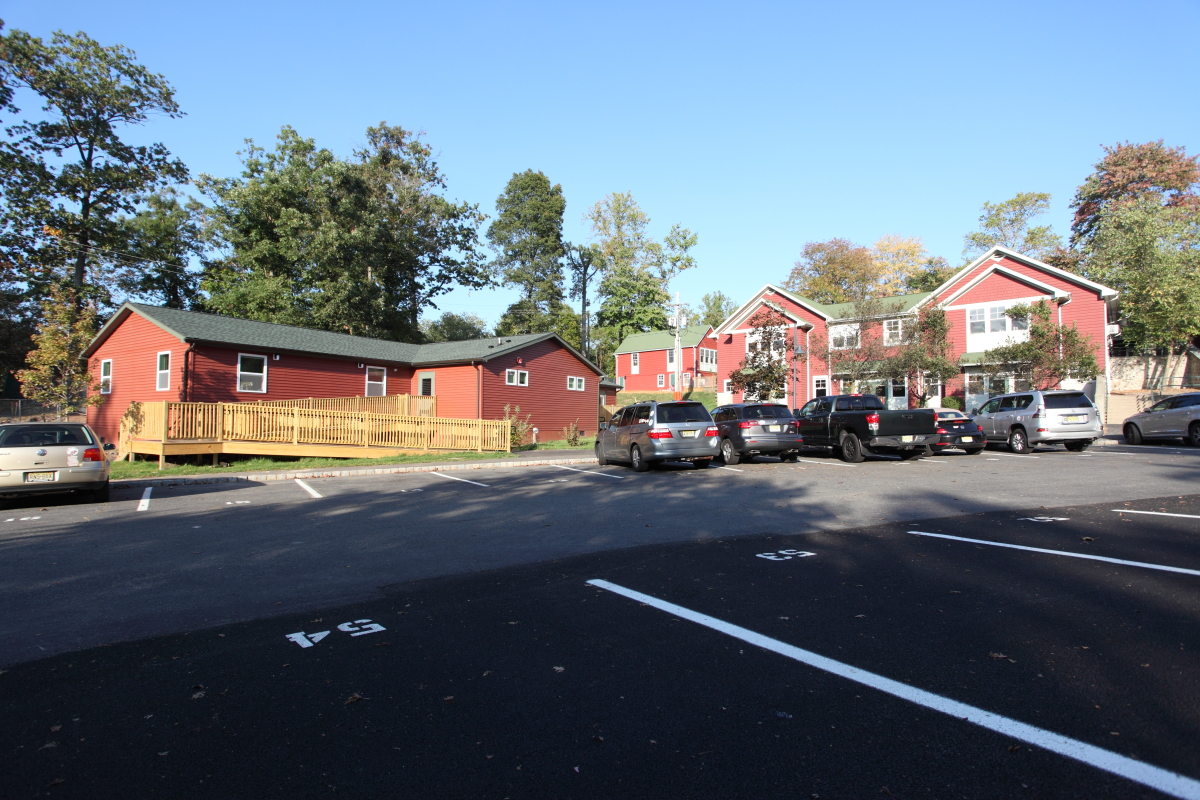 #4: Serves as a Quick Option for Temporary Facilities During Building Renovations
When a school is undergoing construction or renovation, it can be disruptive to the students and staff, and it may be necessary to temporarily relocate some of the classrooms or facilities. But, renting temporary spaces can be expensive, and it may be difficult to find a suitable location that meets the specific needs of the school.
With modular buildings, schools can provide a convenient and flexible solution to this problem with quick installation on the school grounds, providing a temporary solution that minimizes the disruption to the school's activities. Once the renovations are complete, the modular building can be easily disassembled and removed, leaving the school with its original facilities intact.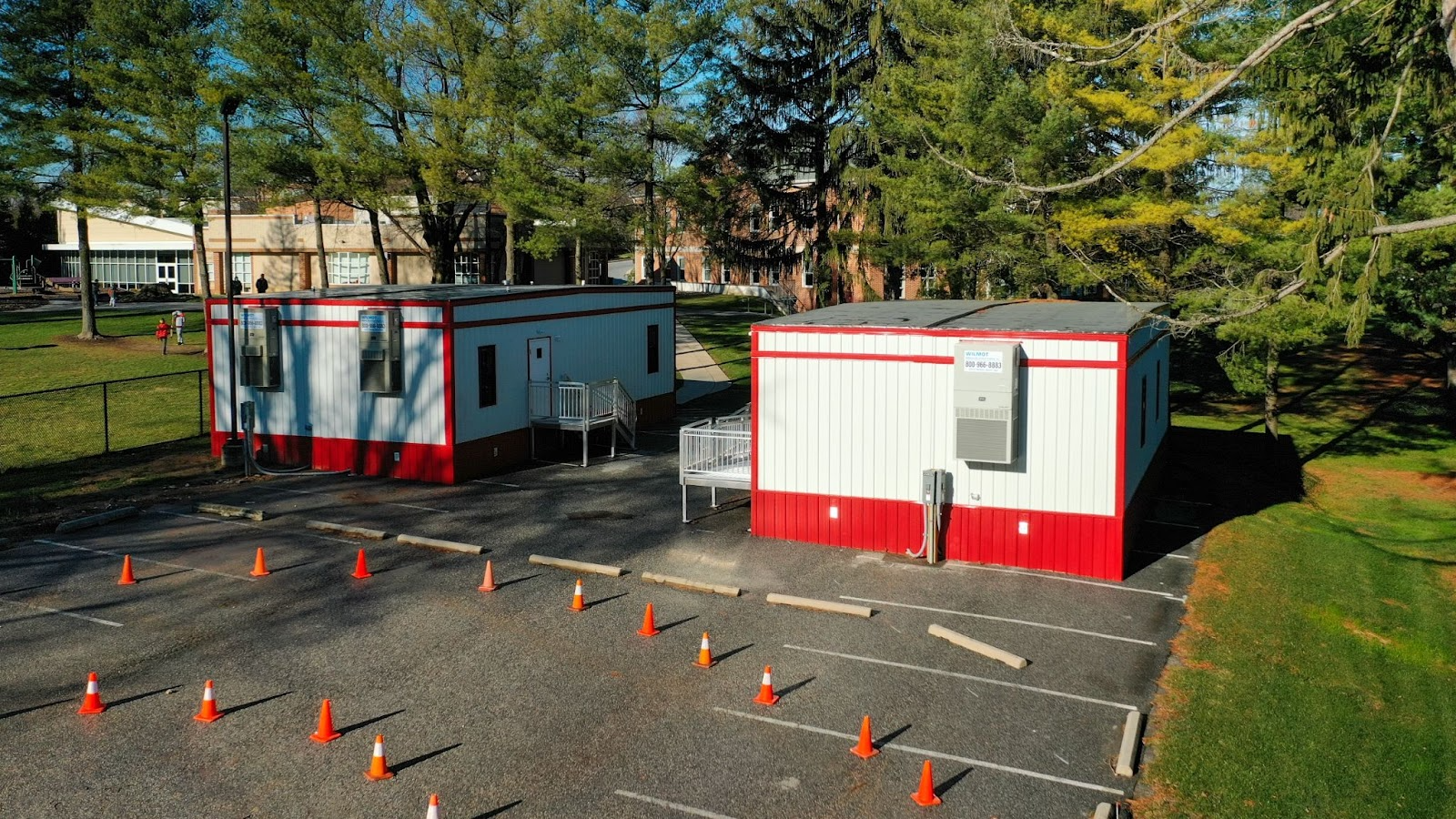 Successful Modular Building Projects for Schools
To illustrate the advantages of modular buildings for school expansion, let's take a look at a few schools that have successfully used modular buildings for expansion projects with Wilmot.
Permanent Classrooms for Hearst Elementary School
Hearst Elementary School needed to expand on a tight budget and wanted the new facility to look permanent and architecturally consistent with the surrounding buildings. The challenge was to place the building on a very tight site while also minimizing the disturbance of land.
Wilmot's Design Team helped value engineer the original two-story concept and converted it into a 1-story modular building that incorporated a foundation typically used for modular building construction, resulting in larger savings for the school. The design-build approach was completed 18 months faster and saved the school time and many thousands of dollars. The features of the building include six classrooms, restroom facilities, metal canopies, ADA ramps, security cameras, state-of-the-art digital communications and IT systems, white rubber roof, seamless gutters and downspouts, hardipanel siding, recessed entries, and corlon flooring.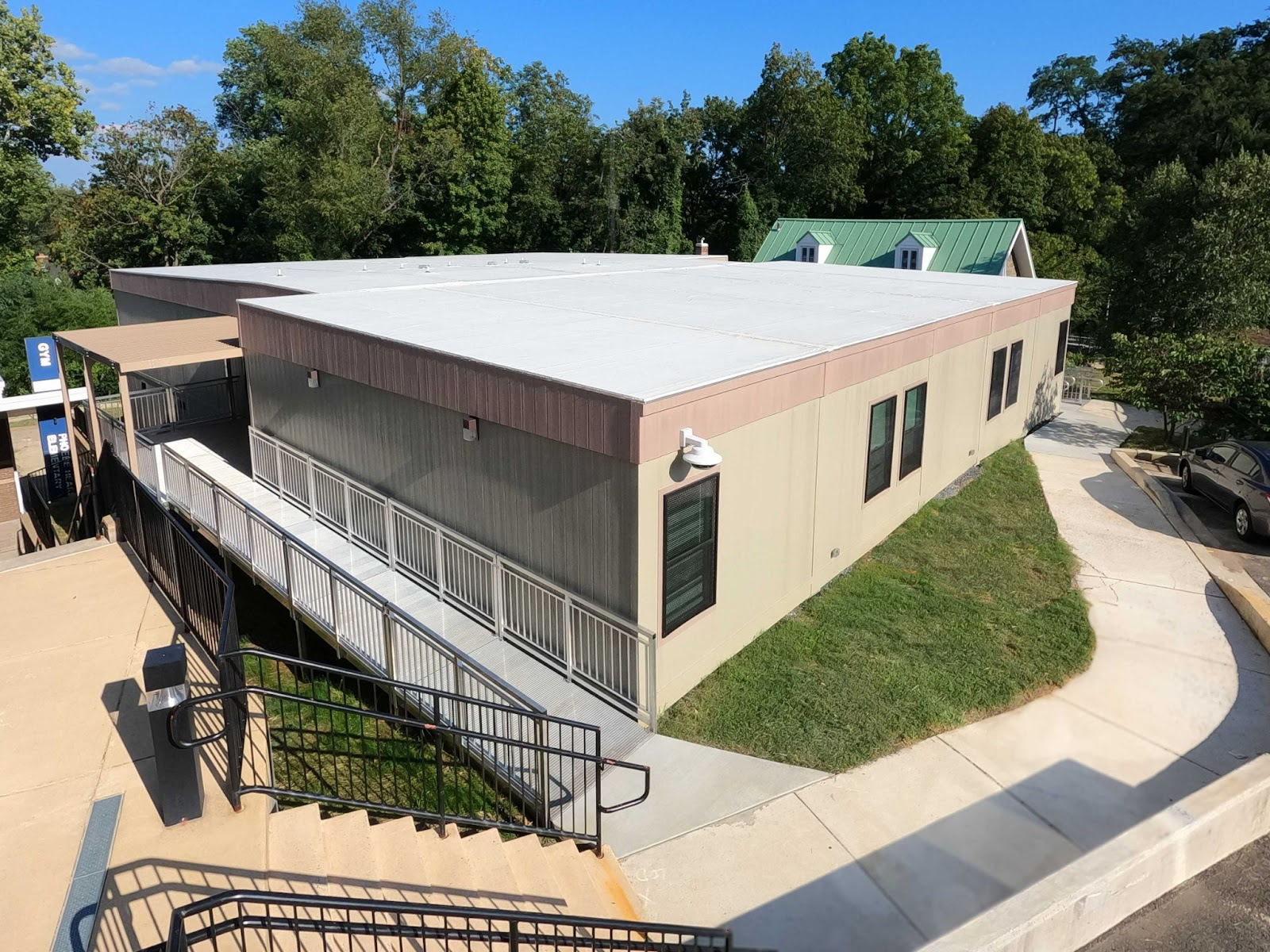 Classroom Space & Custom Canopy for Anne Beers Elementary School
Anne Beers Elementary School needed additional classroom space and overhead protection for their students and staff due to the occupancy being at maximum. They chose modular construction for its fast delivery. Wilmot provided two 24x40 modular classrooms and installed an aluminum canopy with custom footers to connect the current campus to the new modular buildings, providing overhead protection from weather elements. The features of the project included VCT flooring, tegular ceiling tile, high rib steel siding, a large aluminum ramp and canopy, and custom canopy footers.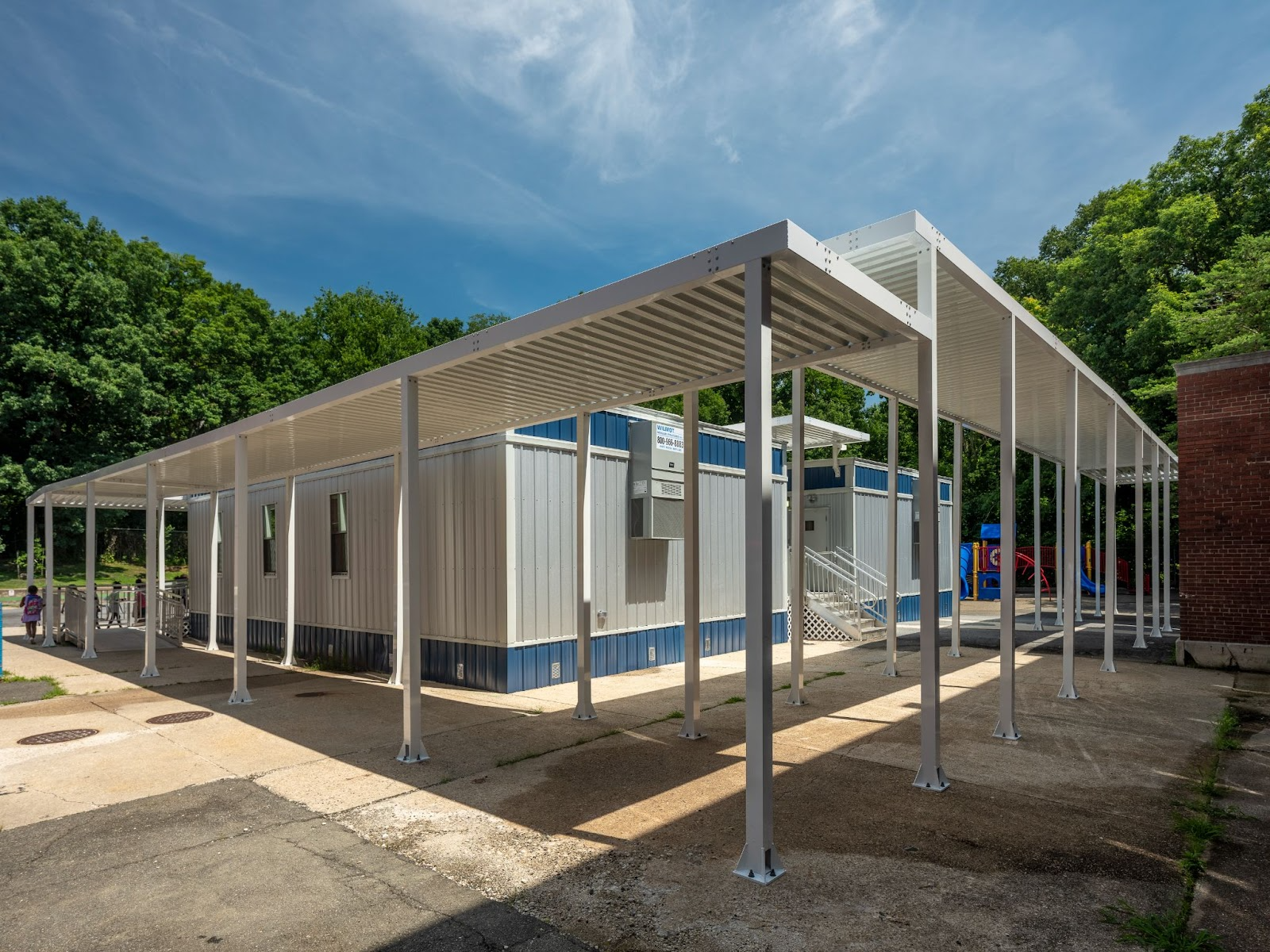 Modular Buildings for Schools Undergoing Growth
Modular buildings have become an increasingly popular solution for schools facing the need for expansion. The cost-effectiveness, speed of construction, customizability, flexibility, and ability to provide temporary facilities make modular buildings an excellent option for schools looking to expand. By using modular construction, schools can create the additional space they need quickly and efficiently while minimizing disruption to their activities. To learn more about modular buildings for school expansion, visit our insightful resource below!