Modular Buildings for the Education Industry
Education is a vital aspect of society, with schools and teachers playing a crucial role in shaping the future of our communities. However, with increasing student populations and changing educational needs, schools often struggle to keep up with demand. This is where modular buildings come in.

With their flexibility, affordability, and quick construction time, modular buildings have become the go-to solution for schools looking to expand or renovate their facilities. At Wilmot Modular, we understand the importance of providing high-quality, customizable modular buildings for the education industry. We are committed to helping schools create safe, innovative learning environments that meet their unique needs.

Advantages of Modular Buildings for Schools

Modular buildings offer significant advantages for schools looking to expand or renovate their facilities. Below are some of the key benefits of using modular buildings for schools.
Cost-Effective
We all know that schools typically run on a tight budget. The good news is that modular buildings are extremely affordable. The buildings are constructed off-site in a factory setting, which significantly reduces construction costs. Additionally, the construction process is streamlined, reducing labor and material expenses. This means that schools can build or expand their facilities at a fraction of the cost of traditional construction methods, freeing up resources for other critical needs. Think of all the things your school can do with that extra money in the bank.
Quick Construction Time
Modular buildings are also constructed much faster than traditional buildings, which can take months or even years to complete. Modular buildings are built off-site in a controlled environment, which eliminates many of the weather-related delays that can occur with traditional construction. Once the modular building is complete, it is transported to the site and assembled in a matter of weeks. This means that schools can quickly add new classrooms, laboratories, or administrative offices without causing significant disruptions to the school's operations. This is especially helpful for schools experiencing overcrowding. Students can get relief with more space and a happier classroom environment sooner rather than later.
Ability to Customize
Modular buildings are highly customizable, which makes them an excellent choice for schools that have specific requirements. At Wilmot Modular, we work closely with our clients to design and construct buildings that meet their unique specifications. This includes everything from the layout and floor plan to the finishes and interior design. We can also add specialized features, such as accessibility ramps and specialized lighting.
In addition to meeting functional requirements, modular buildings can also be customized to align with the school's branding and colors. This can help create a cohesive and consistent look and feel across the campus, enhancing the school's identity and sense of community. Customization options can include exterior finishes and colors, as well as interior finishes such as flooring, wall colors, and even custom graphics or logos. These options allow schools to create a welcoming, cohesive environment reflecting their values and culture.
Our modular buildings are designed to blend seamlessly with existing structures on the campus. This can be particularly important for schools looking to expand or renovate their facilities while maintaining a consistent aesthetic across the campus.
Improved Learning Environment
We understand that as an educator, your top priority is providing your students with a learning environment that promotes their academic growth and well-being. That's why modular buildings can be a great solution for your school or educational institution.
Constructed with high-quality materials, modular buildings offer excellent insulation and soundproofing, creating a quiet and comfortable atmosphere that's conducive to learning. In addition, these buildings can be designed to incorporate natural light, which has been proven to have a positive impact on academic performance, absenteeism rates, and overall student health and well-being.
When students are able to learn in a comfortable and calming environment, they're more likely to engage and excel in their studies. By incorporating natural light and views of the outdoors into your building design, you can help to reduce stress and anxiety, creating a positive and productive learning experience for your students.
Applications of Modular Buildings in the Education Industry

Modular buildings offer a versatile solution for the education industry, providing endless possibilities for improving school facilities. Whether you need to expand your current facilities or create a completely new space, modular buildings are a practical solution for your school.
Schools Looking to Expand with Modular Buildings
Public and private schools that are looking to expand their facilities quickly and affordably can benefit from using modular buildings. Modular buildings can be used to add new classrooms, laboratories, libraries, or administrative offices to the school's existing facilities. This is particularly useful for schools that are experiencing high demand and need to increase their capacity quickly.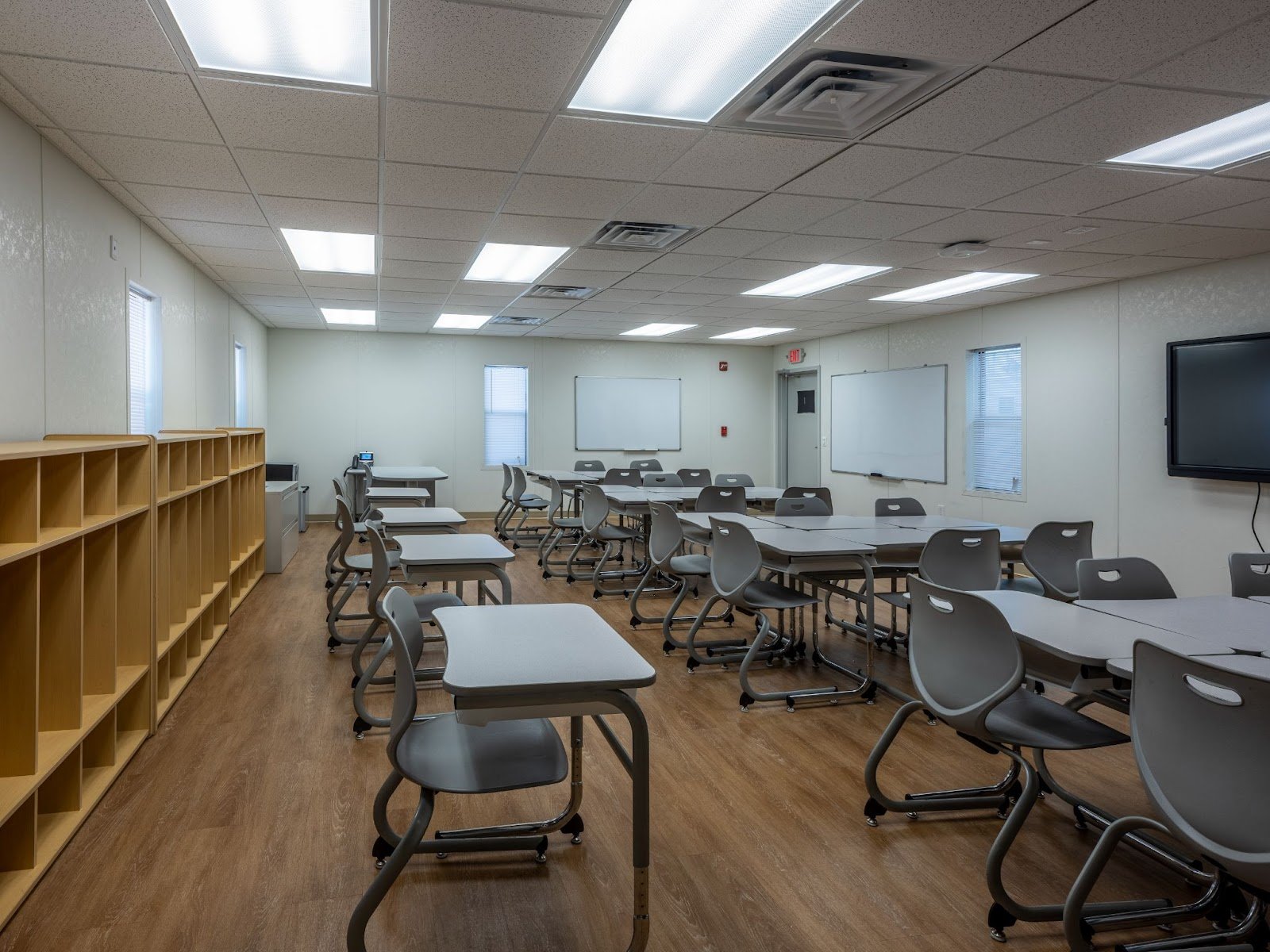 Modular classrooms are an excellent choice for schools that need to add more classroom space to accommodate a growing student population. Modular classrooms are available in a range of sizes and configurations, from small portable classrooms to larger multi-story buildings. They can also be customized to include specialized features, such as soundproofing, technology integration, and climate control.
Modular buildings can also be used to create administrative offices for school staff. These buildings can be customized to include individual offices, conference rooms, break rooms, and other features that meet the specific needs of the school's administrative staff.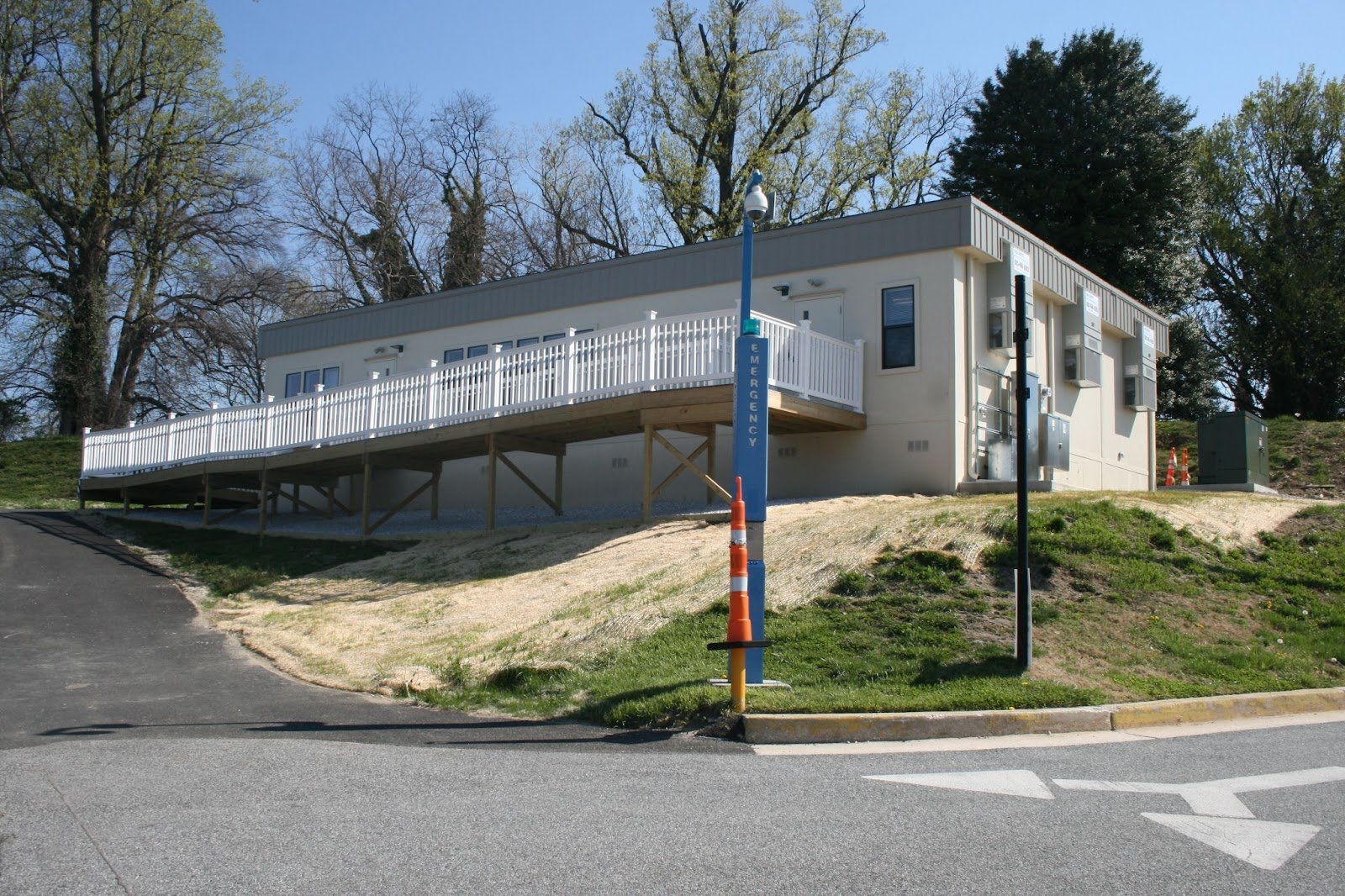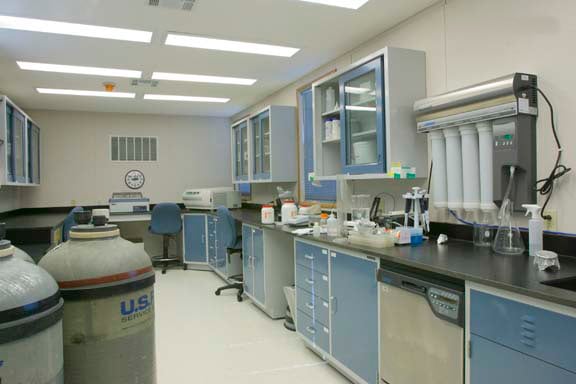 Laboratories & STEAM Labs
Modular buildings can be used to create high-quality laboratory facilities and STEAM labs for schools. Modular laboratories can be customized to meet the needs of specific science, technology, engineering, arts and mathematics programs, including biology, chemistry, and physics. They can be equipped with specialized features such as ventilation systems, fume hoods, and safety equipment to ensure a safe and effective learning environment for students.
Libraries & Technology Rooms
School libraries and tech rooms are a critical part of education for both primary and secondary educational facilities; however, some schools just don't have enough space for these areas, so they become a part of the school resource room or are housed in dual-purpose classrooms. Modular buildings can provide a dedicated library and technology areas designed specifically for your program's requirements.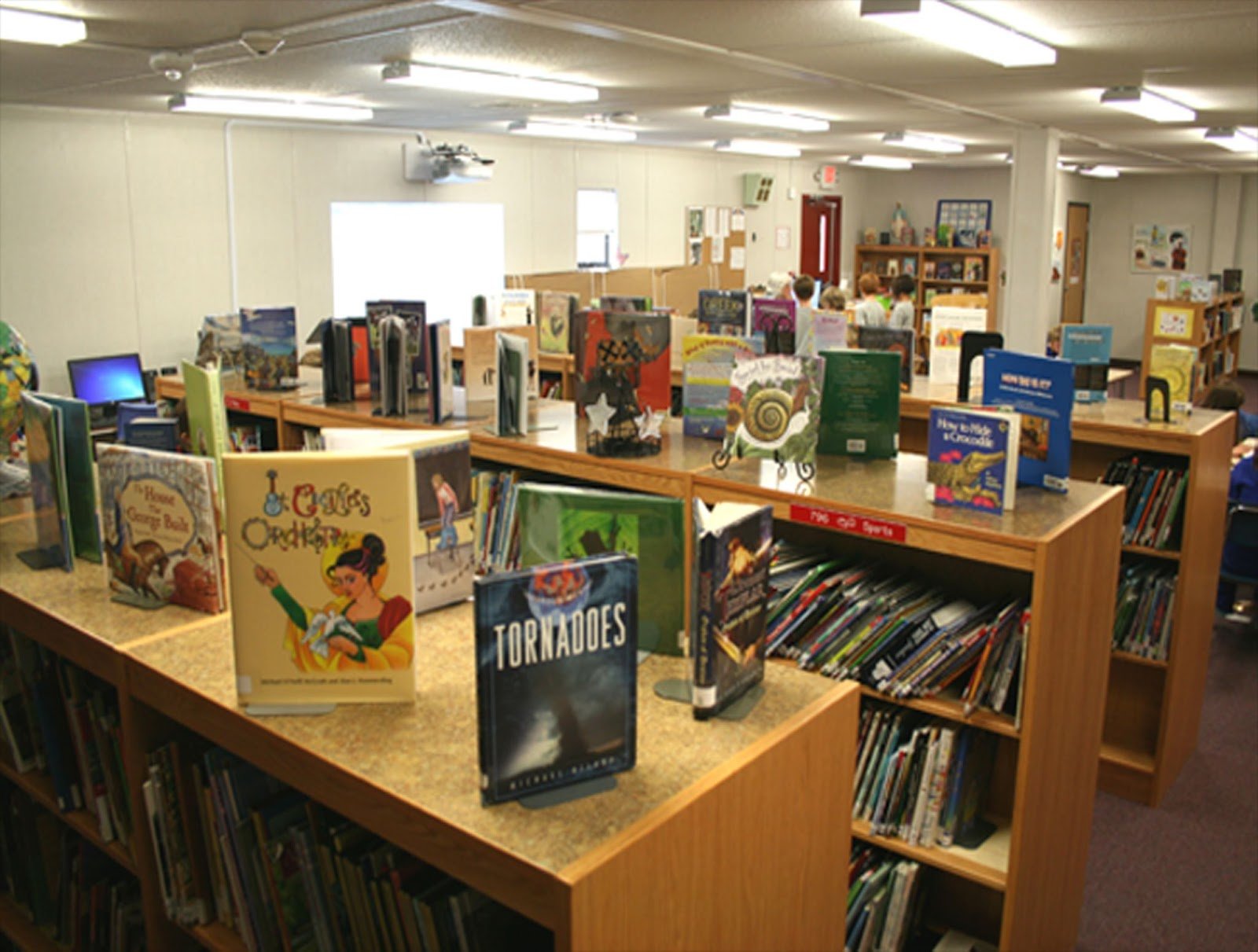 Modular Facilities for Athletic Departments

Modular buildings are often used to create athletic department facilities for schools. These facilities can include restroom facilities, locker rooms, equipment storage, and training rooms. They can be designed to satisfy each sport teams necessities and customized with lockers, benches, obscure windows, water resistant flooring, and more.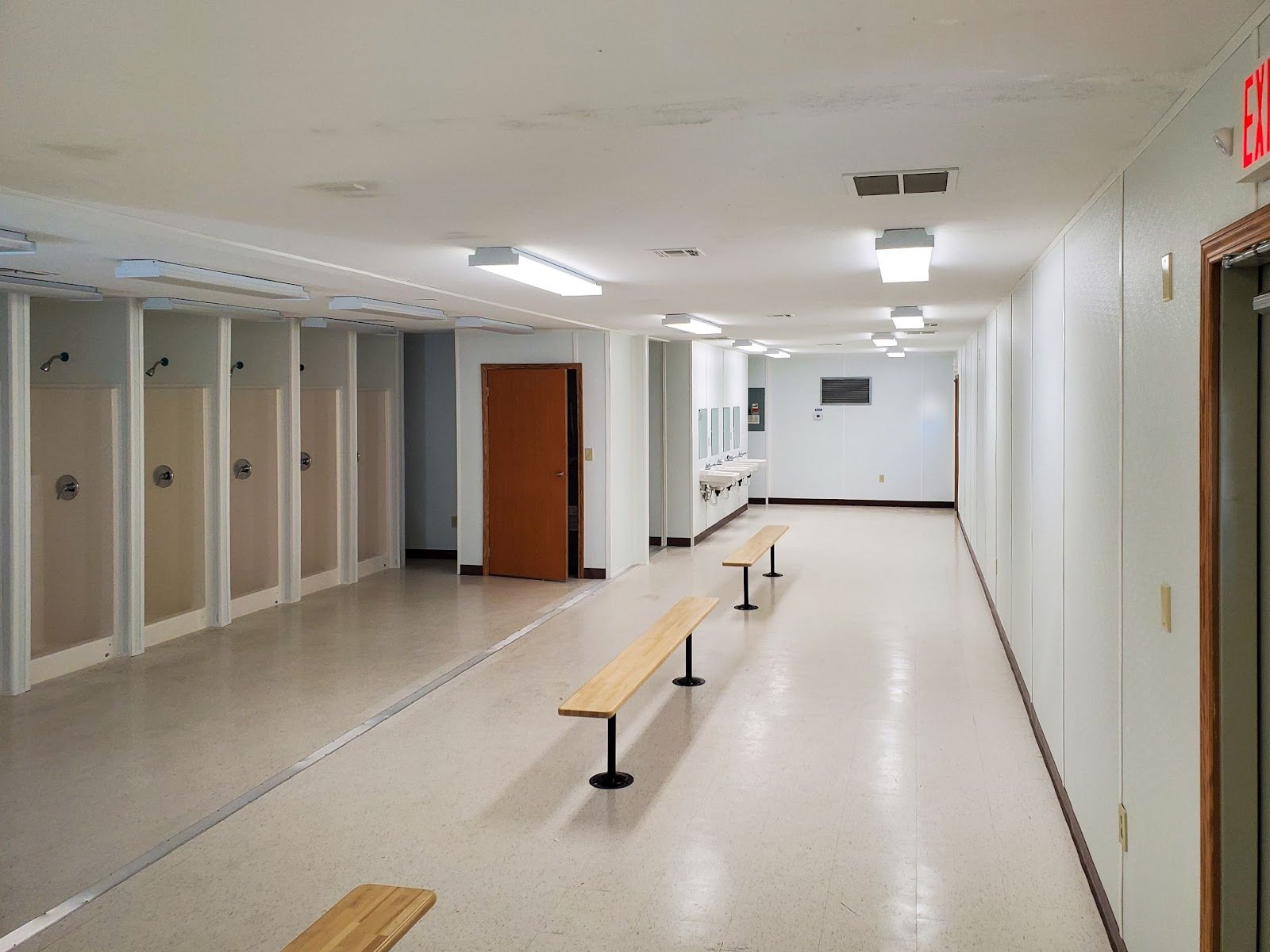 Modular buildings can function as high-quality restroom facilities for schools. These buildings can be personalized to include multiple stalls, sinks, and other features to ensure a clean and comfortable restroom environment for students and staff.
Modular buildings can also serve as locker rooms for schools. These buildings can be customized to include individual lockers, benches, and other features needed for your specific physical education program.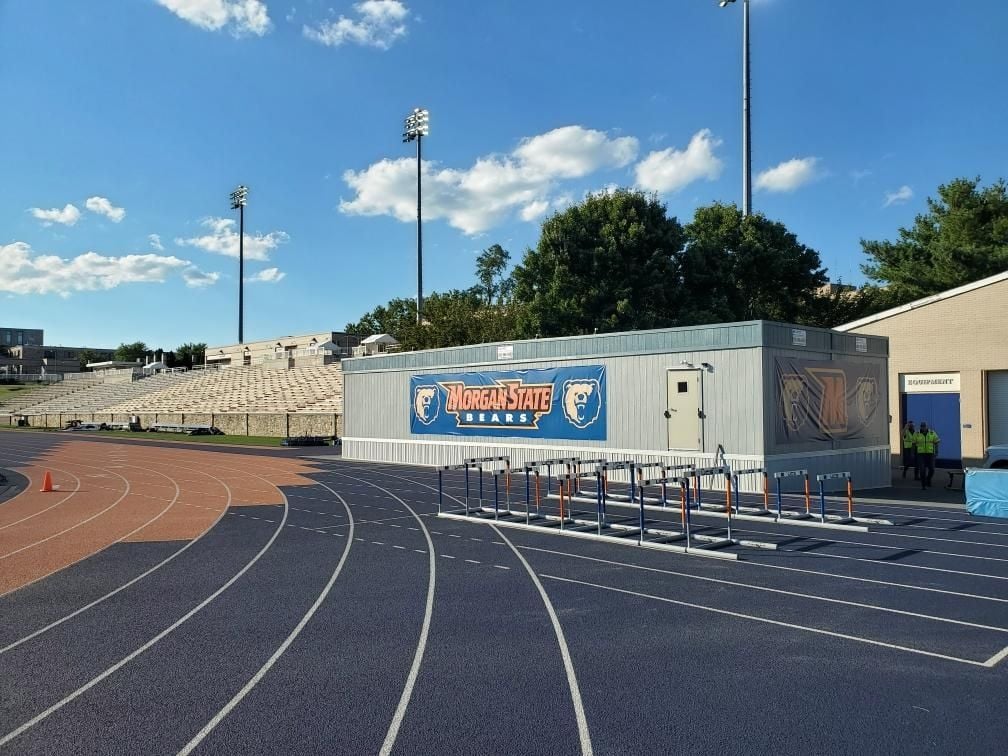 Modular Buildings for Higher Education

Modular buildings have become increasingly popular in the higher education industry due to their quick construction time and affordability. Some of the common use cases for modular buildings in higher education include the need for additional space due to increased student enrollment or the need for temporary classrooms during construction or renovation of existing buildings. Modular buildings are also a popular choice for colleges and universities that need to quickly set up temporary facilities, such as training labs, for a short period of time. Security applications such as guard booths and check-in stations for university campuses are also in high demand. We can help with our line of modular security buildings.

Check out how Wilmot helped these universities expand!

– Howard University, Baltimore Maryland
– Tidewater Community College
Choosing the Best Modular Construction Company for Your School

Selecting the right modular construction company for your school is a critical decision that can impact the success of your project. Therefore, it is crucial to consider several essential factors to ensure that you make the best decision for your school.
First and foremost, you should consider the company's experience in the education industry. This means looking for a company that has a proven track record of success in building modular buildings for schools and universities. Such a provider is more likely to understand the unique needs and requirements of educational institutions and can help you design and build a space that meets your specific needs.
Another important consideration is options. The company should offer a wide range of customization that allows you to create a space that meets your needs. Whether you need additional classrooms, administrative offices, or specialized spaces, the company should be able to work with you to create a custom solution that fits your needs.
Reputation is also a critical factor to consider when selecting a modular construction company. A company with a positive reputation is more likely to deliver high-quality buildings and exceptional customer service. You can research the provider's reputation by reading online reviews, checking their ratings with organizations like the Better Business Bureau, and asking for references from past customers.
Speaking of references, it is always a good idea to ask for references from the company you want to work with. This allows you to speak with other schools or universities that have worked with the company in the past and get their honest feedback on the company's services and the quality of their work. You can also check out your builder's success stories or case studies to see what they've accomplished in the past.
Cost is another essential factor to consider when selecting a modular construction company. While you want to find a company that offers affordable pricing, remember that the lowest-cost option may not always be the best option for your school. Look for a company that offers transparent pricing and can provide you with a detailed breakdown of the costs involved in the project.
Finally, quality should be a top priority when selecting a modular construction company. You want a company that uses high-quality materials and construction techniques to ensure that your building is safe, durable, and long-lasting. A reputable company should be willing to show you examples of their work and provide you with details on the materials and construction methods they use to build their modular buildings.
By carefully considering these factors, you can find a modular construction company that can help you build a modular building that meets your specific needs and exceeds your expectations.
Wilmot Modular: Quick and Affordable Modular Buildings

We understand the distinctive challenges that schools and universities face when it comes to accommodating students and staff. That's why we offer a wide range of modular building solutions to help schools expand their facilities quickly. Our team of experienced designers and builders works closely with each client to ensure that their needs are met and that the final product is of the highest quality. We believe in making the process run as smoothly as possible for administrators, teachers, and the student's well-being. After all, kids spend most of their days in school, so it's critical to provide them with a healthy and happy environment, enabling them to learn.
We Offer Permanent and Temporary Modular Buildings
Our modular buildings can be designed to be permanent structures, or they can be used as temporary solutions while permanent construction is underway. The versatility of our buildings allows us to meet each client's specific needs and ensure that their budget and timeline are respected.
Suppose a school district needs additional space quickly, for example, to accommodate an increasing student population or to renovate an existing building. In that case, a temporary modular building can be an ideal solution. These buildings can be installed and ready for use in a matter of weeks, and they can be easily removed once the permanent construction is completed.
On the other hand, if a school district needs a long-term solution for additional space, a permanent modular building can be designed and built to meet the specific needs of the district. Permanent modular buildings are built to the same standards as traditional construction and can be designed to blend seamlessly with existing structures. They can also be customized to meet the district's unique needs, such as ADA compliance or specialized classroom equipment.
Whether a school district needs a temporary solution or a permanent addition, modular buildings can provide an affordable and efficient solution.
Wilmot's Success in the Education Industry
With the education industry constantly evolving, schools and universities need flexible and innovative solutions to meet the changing needs of their students. As a leading provider of custom modular building solutions, Wilmot Modular has a proven track record of delivering high-quality buildings to educational institutions across the United States.
From small elementary schools to large universities, our team of experts has comprehensive experience working with educational facilities of all extents. Our modular buildings can be tailored to meet the specific necessities of the school, whether it's a classroom, laboratory, administrative office, or athletic facility. With its highly adaptable buildings, we ensure that each client gets a customized solution.
Educational institutions often face tight timelines and limited budgets when it comes to expanding or renovating their facilities. WIlmot's buildings are cost-effective and time-efficient, making them perfect for the education industry. By constructing buildings off-site in a controlled environment, Wilmot Modular minimizes disruptions to the educational environment and reduces construction time.
With a 92% return and referral rate from satisfied clients, we are fully committed to providing exceptional service and custom modular building solutions to exceed your expectations.
Wilmot's Educational Facility Projects
– Hearst Elementary School - Washington, DC
– Anne Beers Elementary School - Washington, DC
– Classical Christian Conservatory School, Alexandria, VA
– Boys Latin School - Baltimore, MD
Band Room and Classroom Space
– Howard University, Baltimore Maryland
Contact Us Today!

Get the conversation started