Wilmot Modular Structures
Modular Buildings for Government Facilities
Modular buildings can serve as excellent government facilities for all forms of government.

The flexibility in building type and construction allows government agencies to quickly add to their building stock to meet their changing needs. Wilmot Modular Structures has been a proud partner with many agencies to help them add space and functionality.
Government Facilities
Need for More Space
Governments and other public sector agencies, like schools, have specific needs for construction and building. Working with a company that is not familiar with these needs could cost lost time and money. With tight government budgets, you need a company that is familiar with this type of work.

As a result of the Coronavirus pandemic, many government institutions, like schools, need to reassess and de-densify their occupancy levels. Students and other building occupants need more space to help prevent the spread of the virus, which means rooms must be enlarged or fewer students housed in each room- requiring additional space.

In addition, many government agencies are rethinking their space needs, experimenting with work from home and telework options. These changes may require new or revamped working spaces.

Depending on the local real estate market, agencies and schools may have difficulty finding available commercial space. It can also be difficult finding the space necessary for unique purposes, like learning.
Modular Buildings:
The Optimal Expansion Solution
Modular buildings can be quickly deployed for a fast operational turnaround.
Because both the building and the site can be under construction simultaneously, the construction schedule is remarkably compressed, saving up to 50% in schedule time.
Modular buildings are also budget-conscious. They allow public agencies to purchase or lease the building spacing they need at a reasonable cost. These savings allow them to spend additional money to integrate custom features and specific designs to meet their needs.
The ability to customize interior features and exterior aesthetics makes modular buildings an excellent option for government agencies. They can be designed to fit the existing structures and provide the necessary options for each agency's specific needs. You can choose from various exterior finishes and interior furnishings to help customize the space. From chairs and tables to shelving and desks, we'll provide the furnishings you need to get to work. Our design team will work with you to make the most of your construction dollars.
Wilmot's
Promises
Wilmot Modular Structures can provide just the structure your agency needs. We promise that we will provide the following: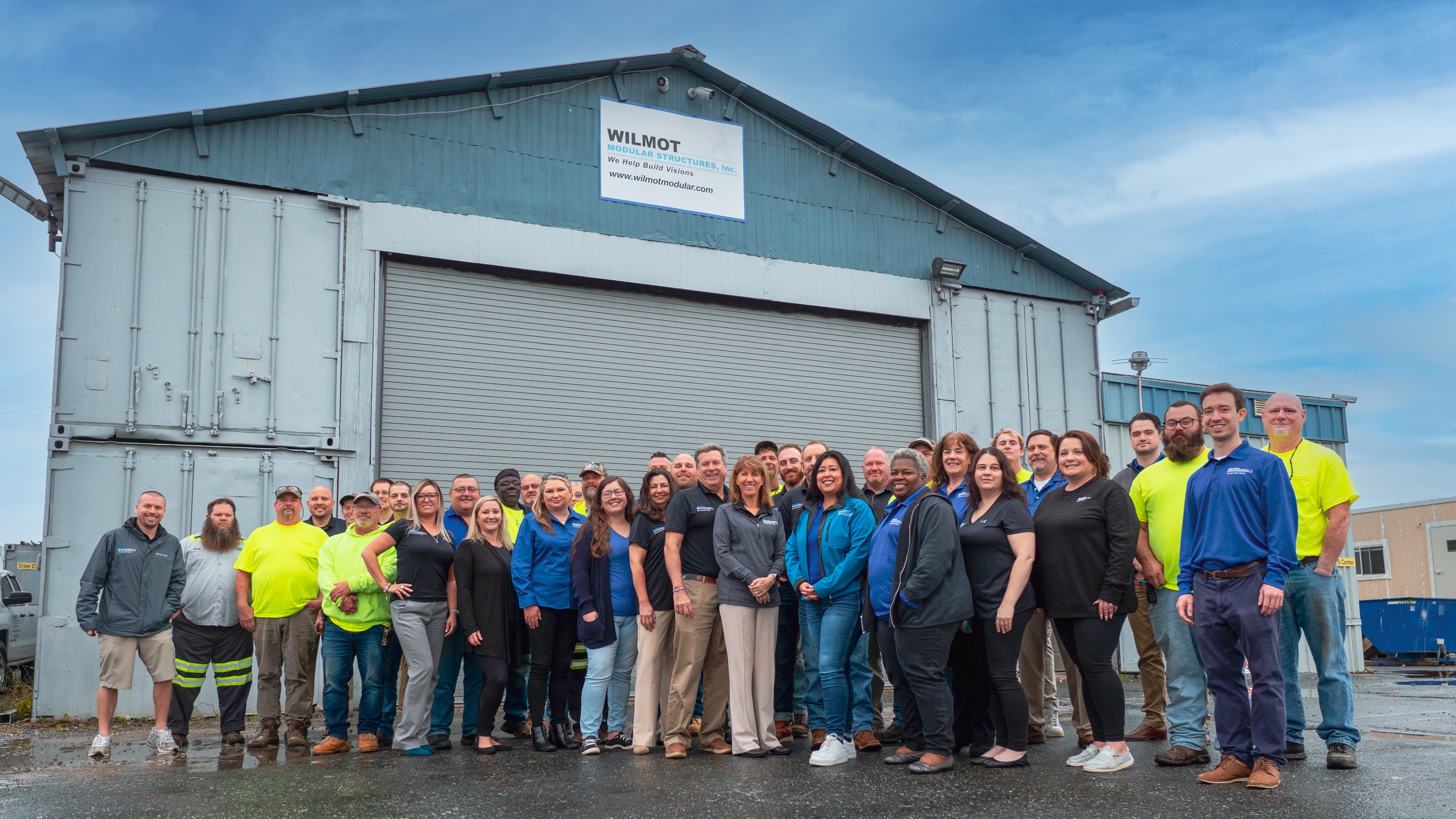 Quick Deployment: Fast Response & Easy Process
Our designers have worked with many government agencies throughout the years, so they know the process for government purchasing and can help guide you through it. Our designers assist you in making critical building decisions to help keep the process moving and avoid costly delays.

Since modular construction allows for simultaneous work at the site and building, construction timelines are compressed. We can help you navigate this process to ensure you are ready when the building is delivered.

Our team is with you from the beginning, assisting you in evaluating your site and the benefits of modular construction. Once the site has been chosen, we work with you to develop a site plan to include all the amenities and fixtures you require. Our design team then begins working on the building design, ensuring the layout and features meet your needs. We can also help with recommended floor plans, quality building materials, and design features within your budget and schedule.

Your building is constructed while site preparation begins, thus decreasing the construction schedule. Once the site is complete, your building is delivered, and utility hookups and building stabilization are completed.

We'll continue to be there through completion, helping you address any issues after moving in. Our final inspection processes help ensure that the work is completed according to our high standards.

Our goal is always to complete the project on time, within budget, and to the highest standards possible.
Rapid Response Program
Select from Stock or Custom-Build to Your Specs
We have a variety of standard designs that you can review to see if they meet your needs, or we can work with you to create custom options. We offer a variety of building types and functions as part of our standard stock, so you are sure to find something with little trouble.
Temporary or Permanent Options
Modular structures are versatile, as they can be installed for temporary use or more permanent installations. The buildings are designed for the ultimate in flexibility and stability. All buildings meet IBC and local code requirements.
Modular Buildings for Lease or Purchase
Wilmot Modular Structures offers flexible financing options to meet your budget needs. We offer loan packages to allow you to purchase your building, flexible lease arrangements, or even lease-to-purchase agreements. We provide dollar by out or residual to own your building when your lease is finished.
Contact Wilmot Modular Structures to get started on a building or project.
Our team will work with you to determine the best financial options for your project.
Government
Use Cases
Government agencies require a wide variety of building types and amenities. Wilmot has worked with many agencies and schools to meet their building needs.
Administrative Offices
We offer a diverse range of office options for government agencies. We design and provide flexible office solutions, whether it's space to house a couple of people or hundreds. Our office structures can be designed with individual offices or an open plan with interior partition systems.

A critical information and infrastructure operations client with limited room for expansion turned to Wilmot for relocatable office space. We provided a total of six two-story modular buildings to meet their needs. The total added square footage was 17,280.
Read More
2 Story Custom Modular Building
A construction contractor needed office space to support a large infrastructure project that would last several years. The space needed to be flexible to adapt to changing needs as the project went along. Wilmot worked with the contractor to reduce site disturbance while providing the necessary multipurpose space. The layout incorporated a mixture of private offices, workstations, conference rooms, ADA restrooms, and other work areas.
Offices for Terminal Manager & Employees
Due to site working restrictions, one client chose to install a modular building to replace their existing double-wide, allowing them to customize the building to their needs, as well as address potential mold issues in the existing structure.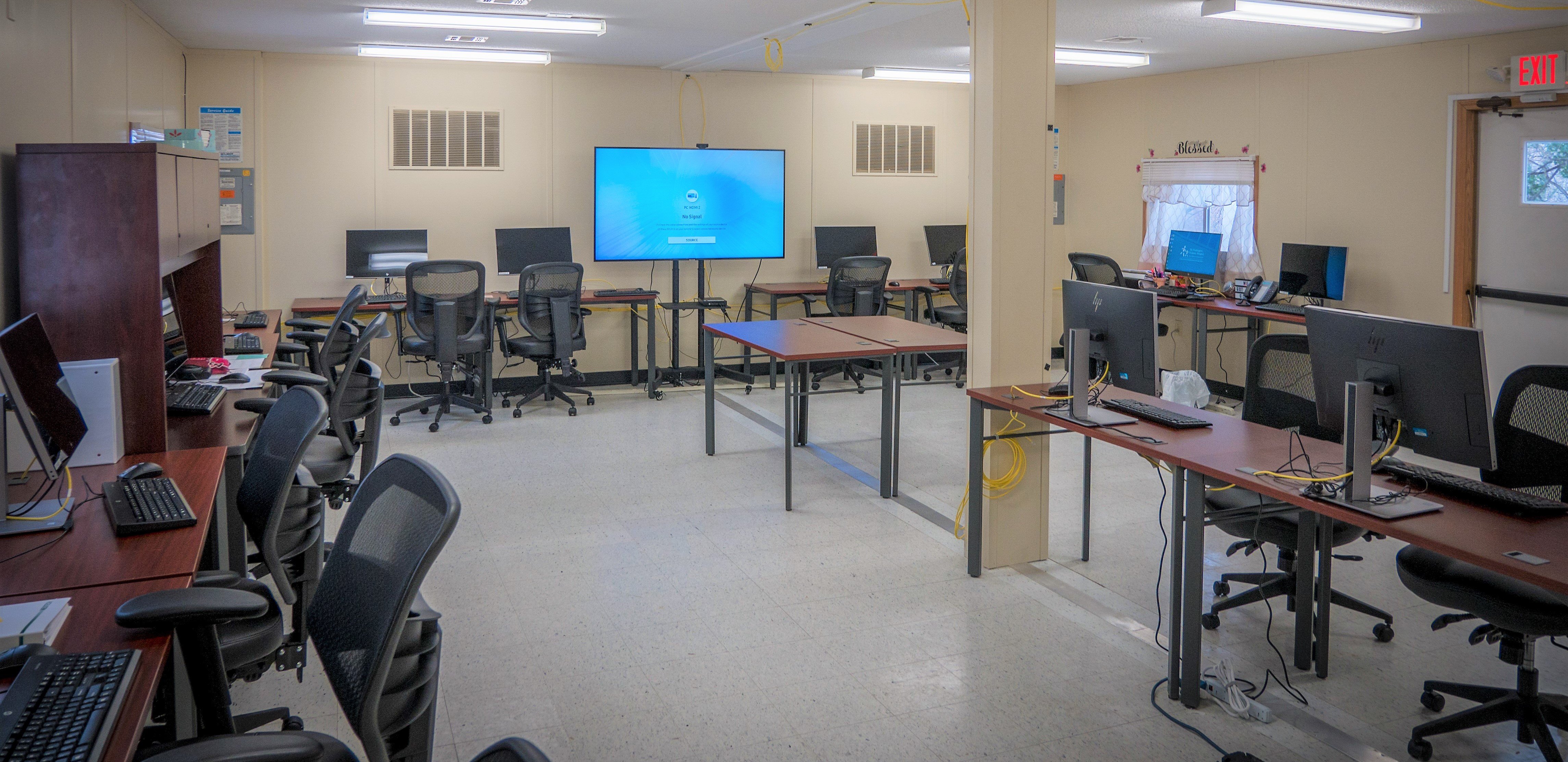 Training Centers
Our training centers come ready with multimedia capabilities and offer the flexibility of a temporary or permanent structure. Training centers can be used in school settings, agency workshops, or department meetings.
At Mt. Washington Pediatric Hospital, they needed a temporary training space for employees to learn a new software program. Wilmot provided a facility, approximately 1,400 square feet, including bathrooms, a kitchen, aluminum steps, decks and ramps, and all utility connections and building permits.
Mt. Washington Pediatric Hospital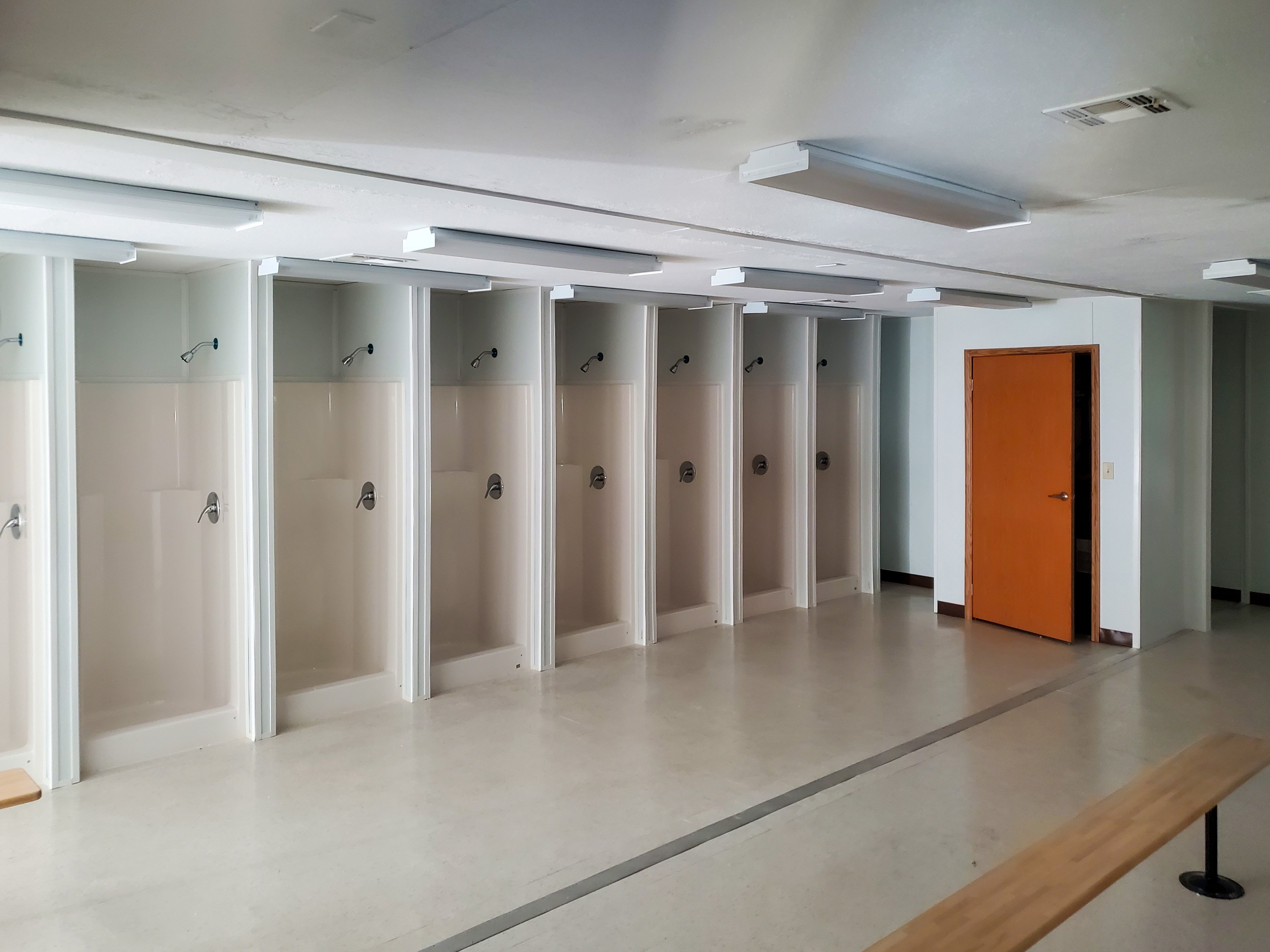 Locker Rooms with Showers
Locker rooms and similar shower buildings can provide needed facilities for sports teams, athletic programs, temporary facilities, and hazardous spill washdown. These facilities are pre-assembled with the plumbing piping and fixtures included. They are also ADA compliant and have moisture resistant finishes for easy cleanup and maintenance.
ADA Compliant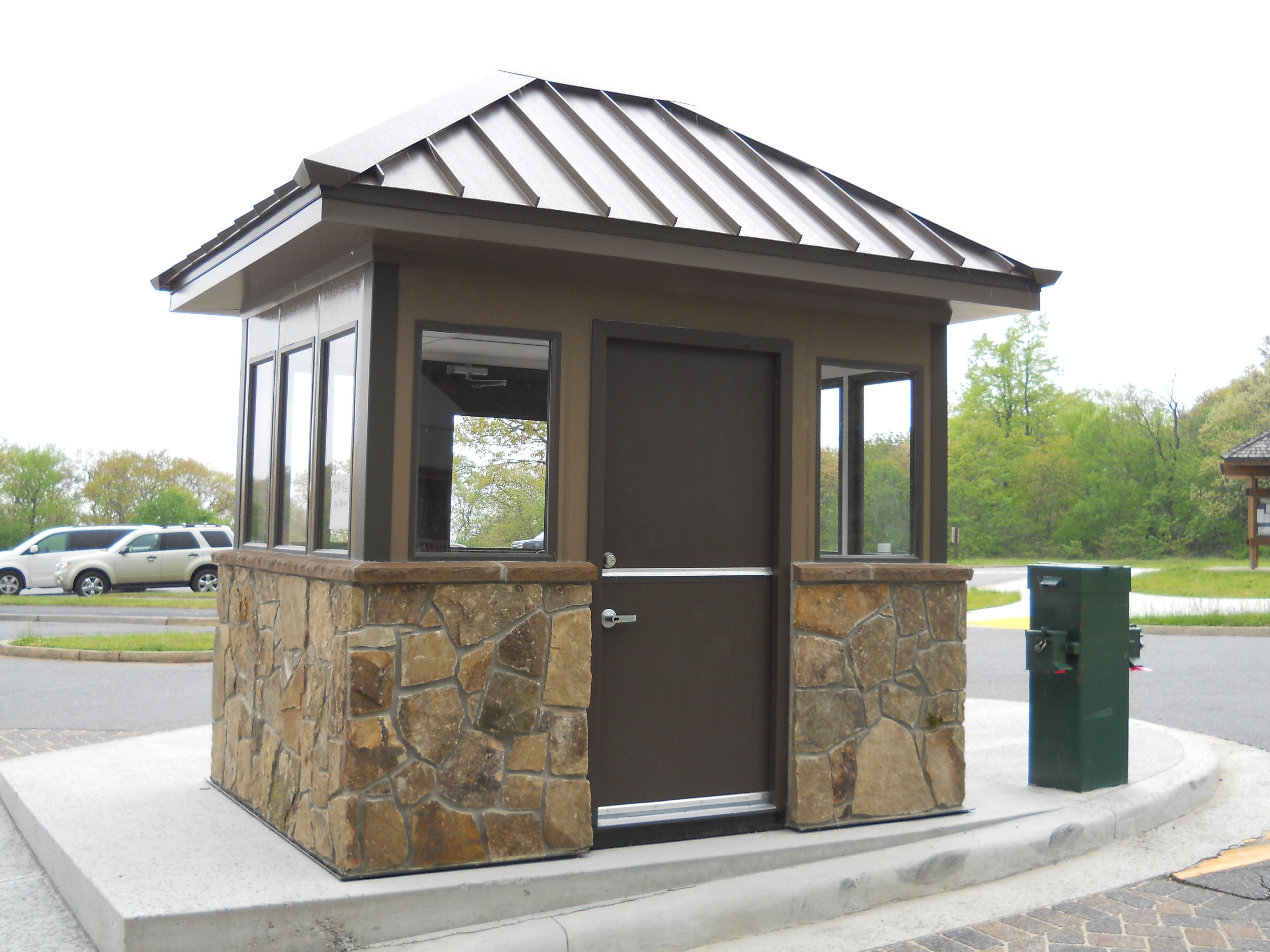 Guard Houses
These days, security has become more important than ever. If your facility or campus needs to house security staff or protect them when on the job, our guard houses will fit the bill. These small structures easily fit at campus entrances to house and shelter security workers during their shift. They can be customized to blend in with existing structures.
Morgan State University reached out to Wilmot for a custom guard house at the campus entrance. They wanted a structure that would match the exterior façade of their existing buildings. A custom guard booth was positioned at the parking lot entrance so that visitors could be screened, and the exterior matched a nearby building.
View the Morgan State University Project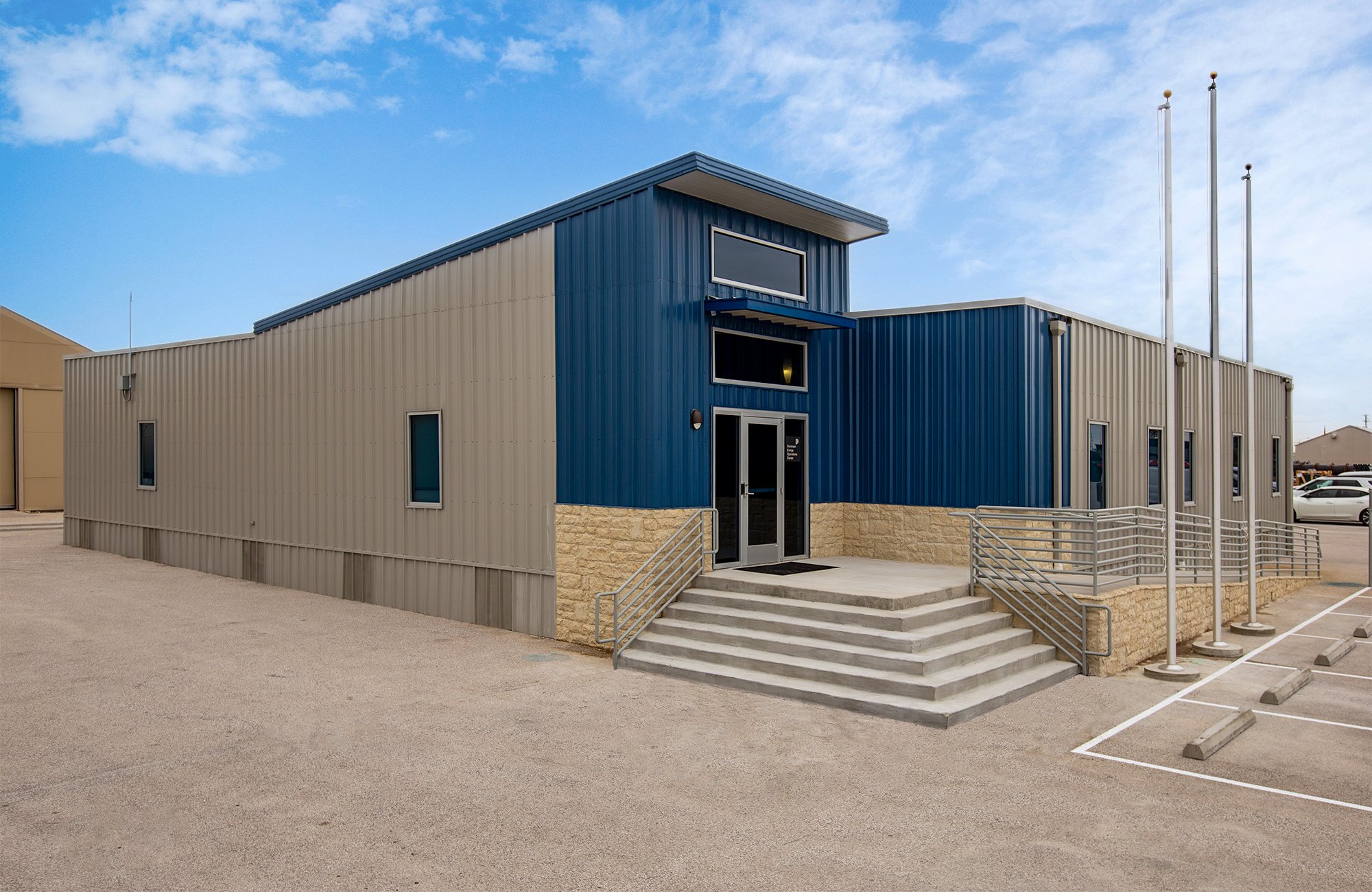 Custom Buildings
No matter what your need is, Wilmot can provide custom or stock buildings to meet your needs. Our designers are experienced in working with government agencies and can ensure that the buildings will meet government requirements and specifications.
Hearst Elementary School in Washington, DC, needed to expand but was on a tight budget. Wilmot helped them design a two-story classroom facility that fit the surrounding structures. By employing a design-build approach, the project was completed 18 months quicker than initially scheduled, saving the school time and thousands of dollars.
View the Hearst Elementary School Project
What is TIPS?
TIPS stands for The Interlocal Purchasing System, which was started in 2002. It's a federal program that allows government entities to purchase quality products that meet government requirements at competitive prices.

The program is administered by the Texas State Legislature, Region 8 Education Service Center (ESC). It is available to more than 90,000 public and private schools, colleges, universities, cities, counties, and other nonprofit agencies throughout the US.

Wilmot Modular Structures is an approved TIPS vendor and can help any federal, state, or local government agency with their building procurement and site development needs. A scoring committee has reviewed our services based on criteria established by the program. For assistance in making a TIPS purchase, view the membership site.
View the TIPS Membership Website
Why it Matters
Wilmot is able to provide a quick response to agencies without requiring a long bid and procurement process. In addition, agencies can receive assistance from TIPS staff to help them through the procurement and installation process. Agencies also benefit from national level pricing agreements, ensuring that they get the best deal for their budget.
Why Choose

Wilmot Modular?

Wilmot Modular Structures can help government agencies with their building procurement needs. We have the experience, qualifications, and building stock availability to assist you.
Qualifications
As an approved TIPS USA vendor, you are assured that your purchases will meet government specifications and your budget requirements. Wilmot maintains a robust stock of building types, allowing us to quickly respond to any building need. We also offer building customization and planning services that will guide you through the process on a project-specific basis. Our site construction services will ensure that your turnkey project meets all environmental requirements, as well as building codes.
Additional Modular Building Products Offered
No matter your facility's needs, Wilmot has a design to meet your specifications. With a variety of building type options, modular structures can quickly be deployed to respond to emergencies or unexpected needs.
Learn more
Wilmot Modular:
The Best Modular Buildings for Government Facilities
Wilmot Modular Structures provides design and construction services for government facilities and agencies. We offer a wide variety of stock and custom buildings that can be designed to suit any need and fit any decor style. We provide our design and construction services in the following states: West Virginia, Maryland, Delaware, Virginia, New Jersey, Pennsylvania, and the District of Columbia.
We promise quick deployment with a fast response time, building options to select from, and financing options to help make your project a success. Participation in the TIPS program ensures that you will receive the level of service you expect, and the quality of construction you need.