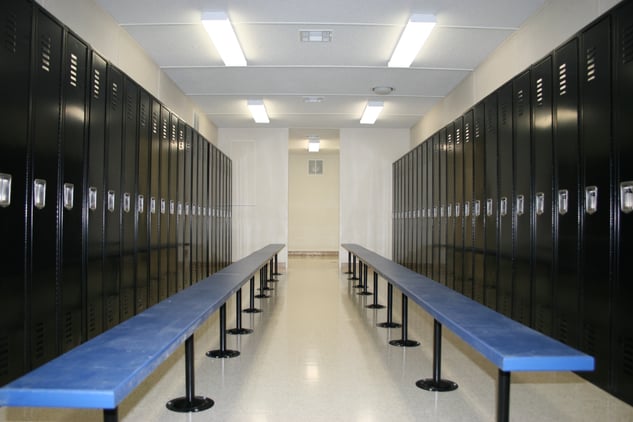 Having sufficient restroom space can often be a challenge. A school experiences a sudden increase in students, and long lines at the restrooms are making students (and even faculty) late to class. Funding to increase the size of the permanent structure hasn't been obtained yet, but a modular building can be squeezed into the current budget.
Additionally, construction jobsites need temporary restrooms, and athletic fields and parks may need extra restrooms in the Spring and Summer. Traditional "portapotties" (or "portajohns") are quick answers but have many disadvantages, including: being difficult to make accessible for people with disabilities, they require the use of chemicals, and they have the tendency to become, shall we say, pungent by the end of the day. Modular restroom buildings and temporary restroom trailers provide an alternative answer.
For shorter term needs, restroom trailers are a good option. They can include shower facilities, lockers, changing tables, etc., and are ideal for swing space during building renovations, festivals, construction sites, and even athletic fields for visiting teams. Unlike traditional portable toilets, it's very easy to make modular restrooms ADA-compliant. In fact, most dealers that lease modular restrooms carry them as standard models. Moreover, you can modify the modular to create the amenities you need. For example, you may need a restroom facility with two stalls and a dozen or so lockers between them for a sports facility.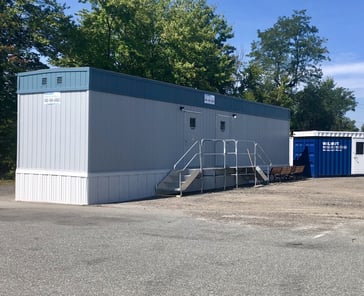 Seasonal facilities may use these trailers for an extended period of time. They also work well for remote areas where there is no ability to hook up to municipal water. Temporary modular restroom buildings can be quickly hooked up to tanks or sewage, water, and power, allowing for a quick increase in space without relying on chemical restrooms. Of course, sites may be in a really remote location where utilities are not available or they just won't be needed long enough to warrant the time it will take to hook up tanks. In those cases, it is often more convenient to use chemical toilets.
Do You Need a More Permanent Solution?
For permanent solutions, modular buildings in general have a quicker build time without sacrificing any quality. They also use less energy and produce less waste. The exterior finish of the structure can even be designed to fit in with the surrounding environment depending on your specific needs and wants.
For example, a manufacturer in Pennsylvania realized that the percentage of women applying for traditionally male-dominated roles was sharply increasing and their current facility was not fit to handle the required restroom facilities needed for additional employees. A modular building with toilets, a changing area, and lockers was installed inside their warehouse.
Schools that are expanding their athletic programs are also choosing modular buildings as a permanent facility because they can be installed quickly with little disturbance to the surrounding area. Changing areas with lockers and showers can fit into a small footprint and budget, making modular units a great solution for space needs.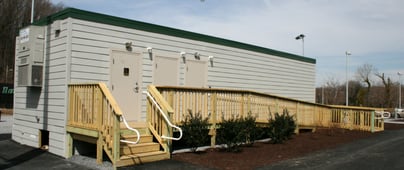 Modular restrooms are a much better alternative to traditional solutions, for all kinds of situations where facilities are needed – either for a short-term application or to deal with a sudden increase in use. Wilmot Modular offers modular restrooms and locker rooms that are ideal for any situation where you simply need to solve space needs fast. Reach out today to learn more!