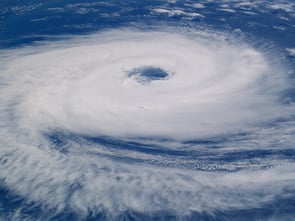 National Hurricane Preparedness Week (May 25-31)
The National Oceanic and Atmospheric Administration (NOAA) issued their 2014 Atlantic hurricane season outlook this week. Their Climate Prediction Center is forecasting a near-normal or below-normal season. Good news for our neighbors – but that doesn't mean we're out of the woods!
According to the NOAA report, the main driver of this year's outlook is the anticipated development of El Niño this summer. El Niño causes stronger wind shear, which reduces the number and intensity of tropical storms and hurricanes. It can also strengthen the trade winds and increase the atmospheric stability across the tropical Atlantic, making it more difficult for cloud systems coming off of Africa to intensify into tropical storms.
"It only takes one hurricane or tropical storm making landfall to have disastrous impacts on our communities," said Joe Nimmich, FEMA associate administrator for Response and Recovery. "Just last month, Pensacola, Florida saw five inches of rain in 45 minutes – without a tropical storm or hurricane. We need you to be ready. Know your risk for hurricanes and severe weather, take action now to be prepared and be an example for others in your office, school or community."
After helping many businesses get back on their feet after natural disasters, Wilmot has seen first-hand the effects a storm can have on a company's operation. "The companies that take Mr. Nimmich's words seriously and prepare for pending disasters, are the ones that feel less effects from the disruption and are back to normal, or as close to normal as you can be after a catastrophe," says Kathy Wilmot, VP of Wilmot Modular Structures.
That is why this time of year Wilmot promotes its Emergency Response Program. "The Emergency Response Program educates our customers on the steps they should be taking to prepare for a disaster," explains DeWitt Bauer, Marketing Manager for Wilmot. He adds that "Wilmot also provides a Disaster Planning Guide as well as links to FEMA and MEMA.
Wilmot recommends to all of its customers in the Mid Atlantic region learn more about how to prepare for a hurricane."