Airports are trying to adapt to the new normal after a worldwide pandemic. In addition, they are implementing new technology that will soon make flying even easier. Biometric technology and electronic identities will make much of today's flying process seem antiquated. As they balance the need for social distancing, less human interaction, and passenger capacity, airport facilities and contractors working closely with airports can rely on modular buildings to provide the flexible space they need.
Increased Efficiency & Flow of Movement
The pandemic has brought to light the need for increased efficiency and movement flow in airport design. Tomorrow's airports will have more space to accommodate larger crowds and social distancing. Passengers can also expect more green spaces and lounges with outdoor seating. Many of these features can be seen at the newly constructed Pittsburgh International Airport. Upgrades to the existing facility included new outdoor gardens between terminals, high ceilings, and oversized windows.
Airports must also give staff the space they need to truly collaborate. Meeting spaces, including conference rooms and huddle rooms for small groups, should be included in airport design, similar to an office design. These meeting rooms allow workers to quickly share information on changing operations or traffic flows due to flight interruptions or unforeseen circumstances.
Many airlines are also experimenting with touchless experiences, which require more room for technology and electronics.
Improved Check-In & Security Processes
Biometric technology is speeding up the check-in and security processes at many airports. Some are even experimenting with facial recognition software, as well as electronic documentation and digital identities. For example, at San Francisco International Airport (SFO), United Airlines allowed passengers to link their driver's license and flight details to their facial biometrics at check-in. Dubai International Airport recently introduced a smart tunnel at immigration that uses facial recognition to speed up processing. These technologies allow more passengers to pass freely through common checkpoints.
Airports see success with these systems, so expect them to be commonplace soon.
Due to the pandemic, many airports are also increasing their touchless experiences. They rely on the latest in technology to capture passenger information, confirm identities, and move passengers quickly to the next step in their journey. These experiences have quickly grown to include passenger check-in, baggage drop, and airplane boarding.
Another piece of technology that airports are experimenting with is virtual queueing. Passengers book a spot in line at airport touchpoints instead of standing in a physical line. This helps avoid long lines at areas like security and gives passengers more time to spend at concessions and retailers.
All this new technology requires more space in check-in areas and security. New airports are using large areas to bring the outdoors inside, allowing passengers to connect with nature on their journey. Others are expanding spaces to allow for social distancing and multipurpose areas. The ability to transition an area from one purpose to another, and quickly change the flow of passenger traffic, will be key to responding to new challenges.
Customer-Centric Retail Experiences
Retail companies at airports are also changing how they interact with customers. Some are experimenting with experiential retail, as well as expanding their spaces. Experiential retail uses virtual reality and augmented reality to help consumers try on clothes and accessories.
As passenger travel levels have fallen, airports are increasingly looking for ways to raise revenues. Airports are launching mobile apps that help passengers make their purchases without leaving their seats. Robots or other delivery staff bring food or other items to the passenger where they are seated. This helps reduce line time and provides additional services for passengers. Cincinnati/Northern Kentucky International Airport (CVG), uses a fleet of autonomous delivery robots for food and retail products.
In addition, some airlines have transformed into lifestyle brands, selling a variety of products through their e-commerce platform. One example is AirAsia, which hopes to have 50% of its revenue coming from non-flight-related, non-aviation-related products and services.
When to Consider Modular Construction for Your Facility Needs
As a Temporary Solution:
For a temporary space, modular buildings can provide time and costs savings, especially if an airport is reaching capacity and needs a fast solution. During renovations of terminals or concourses, temporary spaces can also serve as an alternative to closing operations during construction, allowing your airport to continue operating at full or near capacity. Additionally, modified containers can serve as office space for contractors working on renovation projects.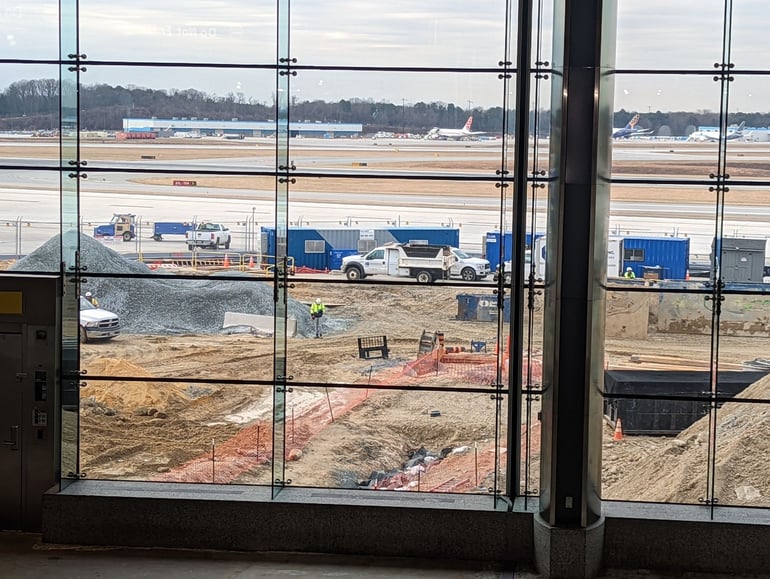 As a Permanent Solution:
As is often the case at airports, temporary solutions can turn into permanent solutions. Recognizing and anticipating that possibility makes modular design and construction a flexible solution to your needs.
Airports can prepare for the incoming technology by expanding their spaces. Modular buildings are a great way to quickly add square footage with little to no disturbance to regular traffic flows. On-site construction times are greatly reduced because the majority of building construction occurs off-site.
Airport staff and airline teams need to be ready to implement these changes. Planning and training are necessary to keep staff up to date and knowledgeable about new systems and technology. Airports need to be designed with these ideas in mind, providing space for gathering and learning.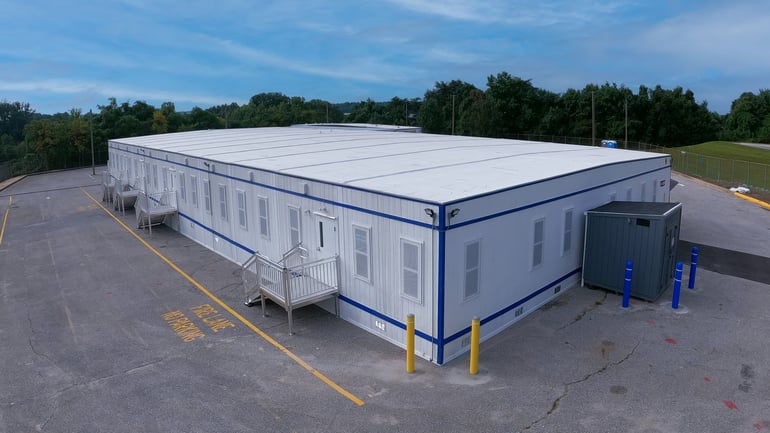 For more information on airport construction and considerations for using modular buildings, see our resources page.
Wilmot Modular Structures is ready to work with your team to expand or renovate your airport operations. Our experienced design staff can help walk you through the process and get you the most building to meet your budget. Contact us today.