Rise Of Modular Construction
In recent years, modular building construction has increased in popularity. Factory-built buildings have become more sophisticated due in large part to client demand for buildings that are more design-oriented than the original 'cookie-cutter' buildings of years past.
Modular building construction is a method whereby individual modules stand-alone or are assembled together to create larger structures. While many modular buildings are two, three, or four stories high, modular designs have been created for buildings as high as seven stories. These buildings come complete with stairways and elevators. Factory-built construction of modular buildings include four stages:
1. Design approval by the client and regulating authorities
2. Assembly of module components in a controlled environment
3. Transportation of modules to a final destination
4. Assembly of modular units to form a finished building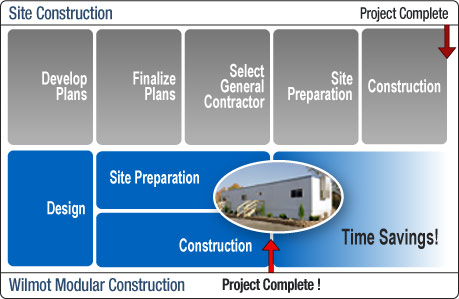 Benefits of building and buying Modular Structures
Fast delivery and speedy turnaround
Occupancy usually occurs in about half the time of a conventional structure, giving the user a speedy return on their investment. Because there is only minimal disruption to the regular business, no additional operating costs are incurred. The benefits of faster construction include:
- rapid return on investment
- shorter interim/construction financing
- less site disruption
- eliminates the need to wait for the completion of the foundation
Flexibility and ease of location
Whether upsizing or downsizing, modular buildings can be added or removed to accommodate your needs. Modular buildings can be built as either single or multi-story structures that include elevators and stairways. Modular buildings are also easy to relocate, reinstall and renovate to meet your changing space requirements.
Enhanced visual aesthetics
Modular building technology offers the same architectural and design elements used in traditional site construction. Buildings can be designed and constructed to match existing surroundings and facilities so they blend with the environment. Of course you can also custom design the building for a unique look.
Value
Because modular buildings are built in factories they benefit from the process of assembly line production. Typically factories buy large quantities of various supplies to keep their costs lower. Labor is used with maximum efficiency, with skilled craftsman moving between workstations on the factory floor.
Quality
Modular buildings are built in a modern, controlled environment and are precision engineered for a lifetime of trouble-free structural durability. Quality control is maintained by constant inspection throughout the construction process.
Financing options
Our sales team is committed to work with you to determine the best financing solution to meet your needs. We offer a full range of financing, including building and site preparation, all of which can be tailored to meet your budgetary needs.