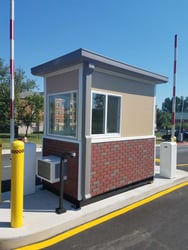 Frequently, security features seem to be an afterthought to a new building project (offsite construction plan for example). This oversight or choice to not plan for security features during the programmatic periods of the project - when research and decision making is done to develop the scope of work - can be dangerous and also very costly down the road. If vulnerabilities aren't discovered and addressed at the onset, an owner may be faced with significant Change Orders, potential lawsuits, insurance issues, or worse, a tragic incident that results in injuries or death.
A risk assessment by a security expert, either on staff or hired as a consultant, can be conducted during the architectural programming. This will save money in the long run and give a market advantage by promoting a safe and secure building.
Steps for an Effective Security Plan
What are some of the steps an owner should take to make an effective security plan?
First, the owner needs to identify all stakeholders and users of the building to make sure they are involved in the planning phase. All activities in a building require different levels of security. Each user or head of an activity has different perceptions of existing vulnerabilities and experience to determine the proper level of security. So it's important to include them all in security planning to understand the culture, how they operate, what they are afraid of, etc.
Second, they must

identify the potential threats and security needs for the organization

. Once that is determined, an architect can begin to design the space that meets the Owner's operational needs. Technological solutions can be established at this point and specs can be developed to include the necessary physical security features.
Then you can create a plan to implement the needed security features. Some of the features that can be included are:

• Access control features

•

Video surveillance

•

Intrusion detection

•

Emergency Communication

•

Bollards

•

Ballistic materials
Security in Design
Security is not just the hardware. It should be part of the architectural design too. How many entrances does the building have? Where is the mechanical equipment installed? How much space is allocated for screening equipment?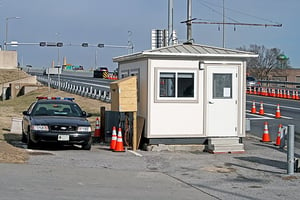 The key to creating a cost-effective security plan lies in IF and WHEN that plan is designed and implemented. When those features and other security considerations are made at the onset, costs of technology, people and features can be minimized. Good architectural design can lessen the technology required late in the project or in post construction to correct bad or uncontrolled traffic flow. Cameras, card readers or similar items may not be needed as much resulting in a major cost savings.
All of that needs to be considered in the design phase – not after construction is complete or even underway. It is significantly cheaper and faster to run wire for security systems while walls are opened up then having to drill through finished walls to add conduit to pull wire.
Contractors that specialize in using a modular, or accelerated, construction process are used to the method of putting together a complete, comprehensive design package with full Scopes of Work at the beginning of a project. It differs from traditional construction where often construction may start on a building before a complete Scope of Work has been created for all facets of the project. It often leads to changes mid-stream and costly Change Orders for the Owner.
Don't Let Timelines Get in the Way of Security
When a building is being constructed with an accelerated construction process and sections of the building are moving down a production line in a factory, details such as material finishes, architectural considerations and security features must have already been determined and included in the design package before the building goes into production. If not, the advantages of using accelerated construction are diminished and wasted.
Owners have a lot to consider when undertaking the construction of a new facility. The guidance from a security expert and a good architect along with advice from a contractor that recognizes the importance of fully understanding an organization's culture and way of operating its school or business upfront during the design process is critical.
Wilmot Modular Structures in White Marsh, Maryland, specializes in constructing buildings with accelerated construction methods. More now than ever, security has become a major concern for all organizations, especially schools and parents. Wilmot has taken a proactive stance and has been working with architects, security experts and modular building manufacturers to help make owners aware of the latest security designs and features available to them.